#39 Vintage Mod on Display at Huron Fasteners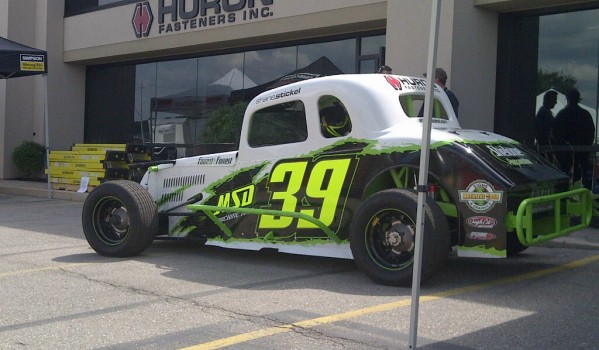 Shane Stickel Motorsports 2012- On August 15th Shane's car was on display at the annual Huron Fasteners customer appreciation BBQ. Hundreds of people show up to this great event that Huron Fasteners puts on every summer to give back to their customers.

The team is very thankful for the support that this great company gives every year. They have sponsored Shane since his younger go kart racing days. Sincere thanks goes to Tom, Duff and the whole Huron crew for everything they have done for the team.  We are proud to have your name on the car and to be a part of you company.  Make sure to check these guys out for all you industrial needs.
On August 18th the team headed to Flamboro Speedway for race 3 out of 4 at this speedway. The night was filled with some close bumper to bumper racing and a lot of cautions. It was defiantly one of the most exciting races this year from fans prospective.
It was a good point's night for Stickel finishing 2nd in the heat race and 3rd in the feature.  The team was happy with 3rd considering Shane was collected in a mid-race accident. Thankfully there was not a lot of damage and Shane could return to the rear of the field and begin battling to get some positions back.
This weekend the Vintage Mods head to Sauble Speedway.  With only 3 races left the racing is sure to be exciting. Come check it out.
Related posts