Stickel Suffers DNF at Sauble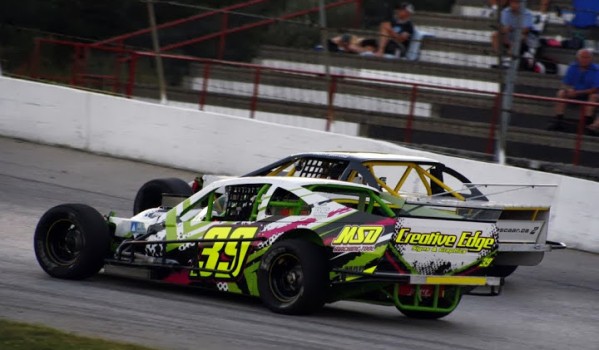 Sauble Beach, ON – After a promising fifth place finish in just his second start with the OSCAAR Modified tour two weeks ago, Shane Stickel was hoping for the same success Saturday night at Sauble Speedway. Unfortunately for the Kitchener, Ont. driver an overheated engine would spoil a good effort by the MSD Machine Tool team.
On a hot afternoon, Stickel's first qualifying heat was derailed after just a pair of laps with a flat tire hurting his chances to qualify near the front of the field for the 30-lap feature.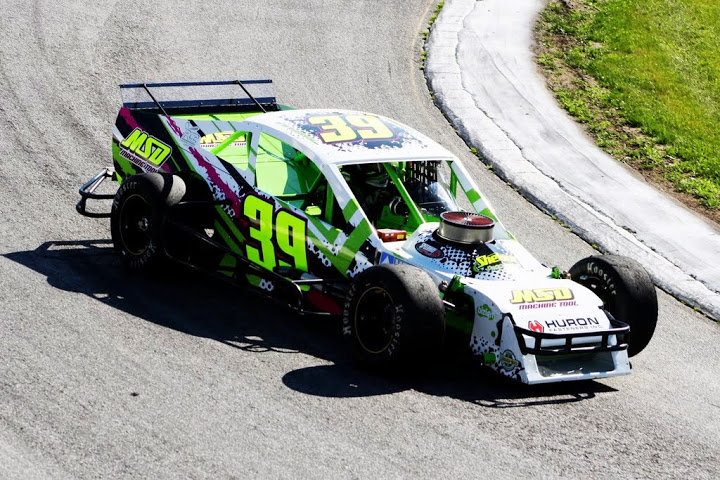 Despite the setback, Stickel ran strong in his second Klotz Qualifying heat, to finish fourth in a stacked heat featuring Davey Terry, Matt Barton, Brian McLean and fellow rookie Dave Osborne.
Stickel's qualifying effort would see him start the A-Main 10th in the 13-car field. Stickel quickly made his way through the field and sat sixth behind Barton for a lap seven restart.
The rookie spent the next 12 laps battling with Barton and Terry for the final spot inside the top-five.
The extended green flag run, however, allowed for a recurring problem to show its ugly head once again. On lap 19, Stickel pulled his No.39 to the infield as steam began to pour from the car's front end.
"The engine was clearly building heat the whole race and I felt the power drop in it," said a disappointed Stickel. "I was keeping an eye on the gauge and trying to push it as long as I could, but with a new engine I didn't want to cook it."
Stickel would finish ninth despite the trouble as a number of other drivers also had problems.
"It was a tough decision to make," explained Stickel of his decision to end the night 11 laps shy of the goal. "I was up there running with a couple of good guys, Davey Terry and Matt Barton, they're the cream of the crop. To be up there battling with them in my third race, I was pretty happy with that."
Stickel explained the power plant on the MSD Machine Tool/MAC Contracting modified has had a history of running hotter than normal since the team first tested at Flamboro Speedway in June. After three races, Stickel feels the team has a good idea on how to approach the problem.
"We're thinking we need to play with some overflow tanks and extra reservoir systems to get more water in the engine," said Stickel.
Despite his first DNF with OSCAAR, Stickel believes there were positives to take away from the weekend. The team battled a heavy push through the the corner early in the day, but were able to eliminate it for the feature. Despite some handling problems, Stickel was able to run with some of the series' best.
"We've got setup notes for next time," said Stickel. "It's a completely different feel (than the Vintage Modified), so it's good to put a list together and know what to expect next time."
Stickel thanked his sponsors MSD Machine Tool, Shelane Properties, Huron Fasteners, Creative Edge Signs and Graphics, Metal Supermarkets, Paragon Collision Centre, MAC Contracting, Bizign Design Company, and SpeedwayPhoto.ca for their continued support.
"A big thanks to my crew as well, my crew chief Mitch, my cousin Jason, my Dad and Al Heringa," said Stickel. "They just go to town on this racecar and I almost don't have to lift a finger. It's pretty cool."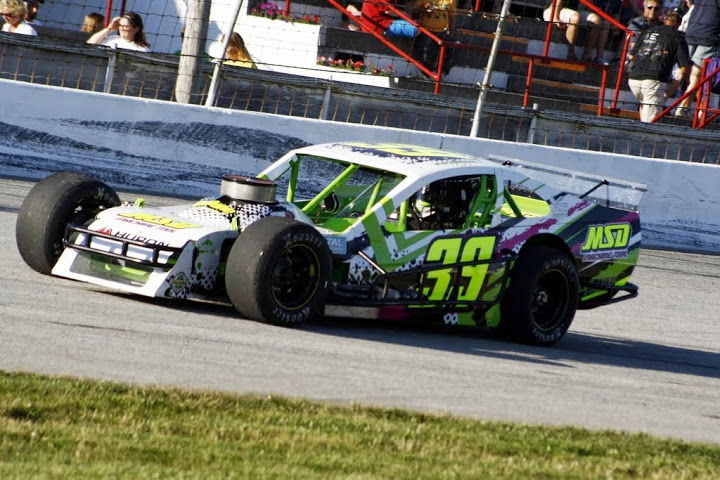 The series shifts to Flamboro next Saturday where Stickel will make the fourth start of his rookie campaign. Stickel has already tested at the Hamilton-area oval this season and has considerable experience there over the course of his career.
"I probably have an advantage as far as knowing what to expect because it's kind of a home track. It's close to home so I've been there a million times on Tuesdays practicing," he said. "I'll feel a little more at home and comfortable there, (but) we've only been there once and the car was brand new."
Racing gets underway at 6:00pm Saturday, July 20 at Flamboro. Spectator gates open at 5:00pm. Follow Shane Stickel's rookie campaign with OSCAAR all season long online at www.shanestickel.com and on Twitter via @ShaneStickel.
By Clayton Johns (@cjohnsmedia)
Photo's Courtesy Dan Little Jr.
Related posts